The Unbelievable Adventures of Baron Munchausen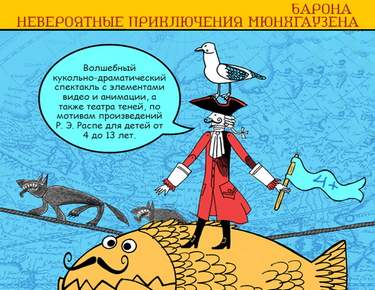 A magical, dramatic play that uses puppets, video, animation, as well as elements of shadow theater. Based on the book by Rudolf E. Raspe and Gottfreid A. Burger for children ages 4 and up.
Who is Munchausen - the Lying Baron? Or the "Most truthful person alive"? Where is the line between truth and fiction drawn? Does it even matter, especially if you're traveling with the most resourceful, brave and witty partner, who can show you the way to the moon itself! Just don't forget to grab your imagination on your way out the door, for there are adventures that wait for you - a meeting with a wolf in the snowy Russian plains, and another with either an African lion or a polar bear! Most importantly - the baron can't get to the moon without your help! Best of all, guests can receive personal advice on how to get out of a tight spot from the most renowned world traveler - Baron Hieronymus Carl Friedrich con Munchausen.
Tickets can be purchased in the foyer at the entrance to the theater.