The Legend of Narnia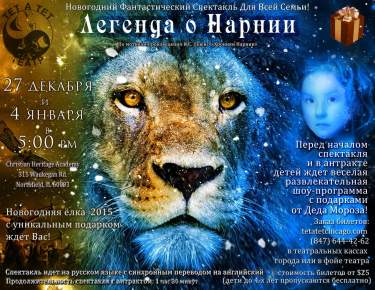 Welcome to the magical world of Narnia! A world filled with hundreds of fairy tale characters: from magical Fauns and gnomes to the majestic centaur, the birthplace of myths and legends. Every day here is filled with wonders and nothing surprises the inhabitants of Narnia. However, for the last 100 years the evil Queen has been in power, and she has been taking from the inhabitants something most precious - their belief in goodness and magic. And only the bravest, most courageous and goodhearted children can defeat evil and truly free the Narnians. The play will captivate the audience, not even for a moment letting them leave the wonderful, amazing story and bringing back the beauty of the New Year even when the holidays have been celebrated and have long since passed. Will the children be victorious in the magical battle for Narnia? And who will be the new king of this magical land? You will discover all of this during the exciting and amusing production of the Tet-a-Tet theater, "The Legend of Narnia."
"The Legend of Narnia" is a grandiose theater and musical production with an engaging plot, bewitching music, unique decorations and costumes and, of course, with the unforgettable acting of theater members! Moreover, there will be illusionists and magicians taking part in the play, who will not let children feel bored even for a second, so that they don't loose the magical feeling of being in a fairy tale land even during the intermission. We're waiting for YOU at this fantastic play that will give children and their parents a unique feeling of joy, wonder and true theater magic!
Cast:
Mrs Hudson – Ludmila Goldberg |Lucy - Naziya Miftakhova | Susan – Maria Vishnevskaya |Peter – Aleksander Silkin |Edmund - Dmitriy Vishnevsky | Mr. Tumnus - Ilya Prikazchikov |Mr Beaver - Stas Kleyman | Mrs Beaver - Olga Kirsanova |The White Witch –Svetlana Seleznieva |Aslan- Sergey Mezhericher |Maugrim-Tatyana Gutsol |Wolves: Dmytriy Danylevych, Vladimir Borun |Squirrels: Dasha Afanasova, Alla Yakovleva | Trees: Lyubov Melnikova, Svetlana Gershik, Oksana Serikova | Elves: Alaexia Galinsky, Benjamin Persits, Maya Belorusskiy, Emily Kushnerov, Diana Dobrovolsky.

Crew:
Director: Sergey Mezhericher |Assistant Director: Naziya Miftakhova |Set Design: Igor Velgach | Costume Design: Igor Velgach| Artist: Marina Muzychenko| Choreography: Pavel Tabutov| Sound: Gennadiy Baldeckiy, Eugene Braverman | Light: Roman Bragin |Set Crew: Dmitriy Vishnevsky, Roman Panich, Mikhail Mezhericher, Mikhail Vishnevsky|
Elves – students of the «Playing in Theatre» class from the Sunday school «Smarty» under the guidance of Ludmila Goldberg.
Tickets can be purchased in the foyer at the entrance to the theater.